Happy International Womens Day! We would like to mark this day with an introduction to one of our many inspirational female team members, Emma Hobbins. Look out over the next few weeks to meet the rest of our fantastic team!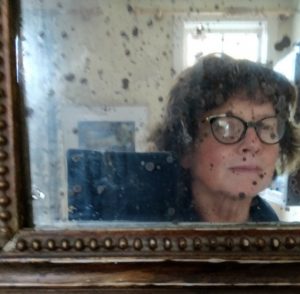 Name: Emma Hobbins
Job: Museum attendant
Main duties of your role at Storiel
Helping look after and interpret the museum collections.
How long have you worked at Storiel?
A long time!
I started work as a volunteer at the Museum in 1979 when it was still called the 'Museum of Welsh Antiquities' – after that I did a research MA called 'An illustrated catalogue and history of the Museum of Welsh Antiquities'. There was no catalogue before that, and much of the reserve collection was in black plastic dustbin bags and old boxes – it had moved location a few years before. It was a fantastic opportunity for me – how many people today can stumble across such an interesting collection in such a state.
I've continued to work part time on and off at the museum since then.
Whats the best thing about your role in Storiel – (or) if you could have one superpower, what would it be?
I love still being able to work with the fascinating collections – and now I am able to curate exhibitions that interpret them in different ways. The last one I did before the lockdown was 'Button it Up' – looking at gender issues through the prism of our collections.
If I had a super power it would be the capacity to raise enough funds to run Storiel with a much bigger budget, and make Bangor a 'Museum City', combining all the fantastic University collections and Storiel.
What is your favourite item in Storiel and why?
There's so many – at the moment it's probably the remains of an exquisite embroidered silk dress that belonged to Elizabeth Morgan who lived at Henblas in Anglesey in the 18th century.
How to you like to relax outside of work?
Drawing, book making, gardening, walking and reading.