In 1918 the world was on its knees, after 4 years of war, the strain of H1N1 flu came as a shadow over the world. Known as the Spanish flu, because Spanish journalists unlike most in the world were reporting the disease and deaths, this was the most serious pandemic since the Black Death.
11 September 1918 David Lloyd George was on top of the world, Prime Minister of Great Britain, MP for Caernarfon Boroughs, in the process of bringing the bloodiest war the world had ever seen to an end and traveling to the city of his birth, Manchester, to receive the Freedom of the City. Women from the munition factories and soldiers at home on a furlong filled the streets from Piccadilly station to Albert Square in the city center to welcome their hero.
But later that evening, David Lloyd George developed a sore throat and a fever. He spent the next 10 days in specialist bed at Manchester City Hall too ill to move and with a machine to help him breathe. Newspapers of the period including the Manchester Guardian, and Welsh ones such as the Yr Udgorn and Y Dydd, tried to understate the seriousness of the situation in case Germany took advantage. Later, staff who were very close to him reported that it had been "touch and go".
At the age of 55 David Lloyd George survived the disease, but thousands and thousands were not so lucky. In a world before antibiotic medicine and the National Health Service over 250,000 patients in Britain were lost to the disease.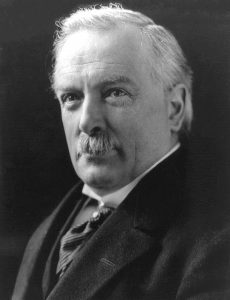 Follow The Lloyd George Museum on Facebook, Twitter or Instagram to learn more.