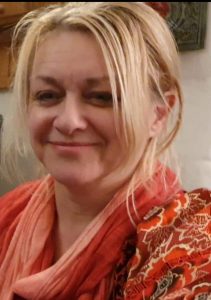 Name : Helen Walker
Position : Learning Officer
Main duties of your role at Storiel :
Provide educational resources to support the collection and exhibitions. Hold events that have an educational element or that expand Storiels audience, offering a service to schools who want to make use of the collections or borrow items.
How long have you worked at Storiel?
September 2019
What's the best thing about your role at Storiel? – to have the opportunity to bring the collection and the art world to the attention of people who would not normally attend a museum or gallery.
What is your favorite item in the Storiel collection and why?
The carved slate. These slates show that you do not have to be an official 'artist' or 'important' person to leave your mark on the world and create something significant. I live above Dorothea quarry, and was educated at Ysgol Dyffryn Nantlle, so anything that interests the slate quarries interests me, and I like to take pictures in the quarry and carry out projects related to it.' industry and carved slate.
What's your favorite way to relax outside of work?
Gardening and singing in a band.