Hi! I'm Gwenno and this is my first post here.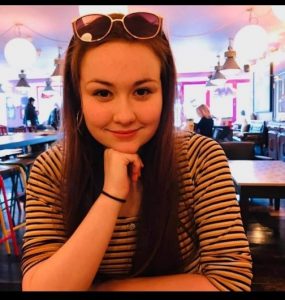 I'm from Gwynedd and am currently in my 3rd year of studying History and Archaeology at Bangor University, so I have a big interest in medieval history. I've recently been on a Work Placement at Storiel as I have a big interest in local history and my local community. I will be taking over some of Storiel's blog, so you'll be seeing a lot from me, which is something I am very excited about and can't wait for.
In my spare time l love to read and write, so contributing to this blog is a great opportunity for me. I am a great lover of art, and enjoy creating my own drawings and it's a great passion of mine, so one of my favourite things about this project is seeing the art work and products of many of the local artists that we help promote.
Every month I will Introduce the Supplier of the Month with a blog post about them, and not just the art or product, but a little about the people working behind the scenes with recent Interviews from them. I see this as a great way to promote local businesses from my own community and promoting Wales. We've asked all of our chosen suppliers a series of questions; keep your eyes peeled for our first Supplier of the Month, coming soon.
See you soon!
Gwenno