STORIEL OPEN 2020 Exhibition Film
A theme of 'The Outdoors' was set for the 2020 exhibition and an excellent response was had with a range of artworks submitted in various media. From these, 94 items were selected in March before the first lockdown.
Whilst applauding all entrants who took part, art work by Mark Albrow, 'Sunset Over the West Shore', a digital print, was awarded the 2020 Selector's Choice prize.
MARK ALBROW :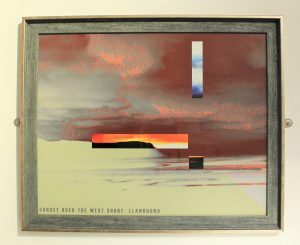 Mark Albrow would visit Tegfryn art gallery at Menai Bridge on his way home from school, where seeing the work by artists such as Donald McIntyre, Roy Ostle and Kyffin Williams had a big impact upon him. He went on to study art and achieved a BA Hons in Fine Art from Sheffield Polytechnic.  Mark has pursued his creativity through the visual arts and sound throughout his life and was a founder member of an experimental audio-visual group called HULA. Returning to north Wales, to the Conwy Valley in 2014, he and his wife were both able to devote more time to their respective artwork. Mark's main subjects are landscape and portraits, traditional subjects which are infinitely challenging. He says, "I usually use oil paints for my paintings, but also work with digital tools manipulating my photographs using many treatments to produce equally expressive imagery. I am always trying to find better ways of expressing my sensations and have therefore never settled on a specific style, always exploring, which is fantastically stimulating, hard work and a lot of fun."
In addition, Highly Commended was awarded to photography by Pete Whitehead and Commended to art works by five other artists namely Brenda Chaffer, Rene Evans, Judith Samuel, Joan West and Dorothy M Williams.
Storiel was able to welcome visitors to view the exhibition in the autumn, during which time voting for the People's Choice was possible. With the most votes, the People's Choice prize, donated by Cyfeillion Storiel, is awarded to the 3D artwork by Jenet Peers, 'They go out once a year and discuss mental health issues', made of fired clay and papier mâché.
JENET PEERS: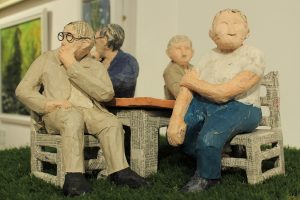 Jenet Peers is a local artist who lives on Anglesey. Since retiring in 2006 she has pursued her life long wish to paint and has exhibited regularly with the Anglesey Art Group and the North Wales Society of Fine Arts. Jenet said " I started working in 3D in 2016 and the figures I once drew and painted are now created in papier mâché and fired clay. The work 'They go out once a year…' was based on a painting I did after seeing this particular group of men from a bus when I was on holiday in Greece. It just struck me how nobody in the group was engaging with the others. I thought it reflected very well how men don't seem to talk about their feelings".